Japanilainen Puhtaan maan Nenbutsu-koulukunta on järjestänyt World Buddhist Summit tapahtumia vuodesta 1998 lähtien. Seitsemäs Summit pidettiin tänä vuonna 2-7 marraskuuta Sri Lankassa, kokouspaikkana pääministerin konferenssisali Colombossa. Summit-idean isä, Nenbutsu-patriarkka Kyuse Enshinjoh ei voinut tulla SriLankaan terveysongelmiensa takia, vaan seurasi tapahtumia livenä sairaalassa Japanissa. Summitin johtohenkilöinä toimivat mongolialainen Summit-presidentti Khamba Lama D. Choijamts ja nenbutsulainen varapresidentti Shinkai Kori. Laman puheita käänsi hänen pyöreäkasvoinen avustajansa, joka puhui erinomaista englantia. Sri Lankan presidentti Maithripala ja pääministeri pitivät myös puheita. Lisäksi kunniavieraina olivat mm. Bhutanin ja Kambodzhan prinsessat, Ugandan Kooki-valtakunnan kuningas Apollo II sekä Mongolian ex-presidentti.
Delegaatioita oli 47stä maasta. Suomen delegaatioon kuuluivat tällä kertaa allekirjoittanut, Lootuksen Sydämen temppelin apotti Thich Hanh Bao ja Keravan vietnamilaisen theravada-temppelin munkki Vijjaviriyo. Yhden maan, Filippiinien, pääedustajana oli nainen, filippiinienkiinalainen nunna. Afrikan maita oli mukana viisi – buddhalaisuus leviää myös Afrikassa. Sikäläiset munkit tekevät paljon sosiaalista työtä auttamalla mm. köyhiä ja AIDSiin sairastuneita. Yllättävää, että Afrikan ensimmäinen buddhalaistemppeli Tanzaniassa perustettiin jo vuonna 1919.
Jokaista delegaatiota varten oli srilankalainen avustaja. Suomen ryhmän avustajana toimi sympaattinen herra Dewage. Konferenssissa tapasimme monia ystäviä, mm. Vietnamin munkkeja, puheliaan amerikkalaisen nunnan Kheman, aurinkoiset australialaiset sekä vikkelästi paikasta toiseen juoksevan Summit-sihteerin herra Norin. Italian pääedustajana oli ystävämme munkki Seiun, joka on käynyt Suomessakin Bodhidharman vieraana.
Konferenssin avajaisissa nenbutsu-pappi Shinkai Kori puhui mm. buddhalaisten maailmanlaajuisesta yhteistyöstä rauhan ja ekologian hyväksi. Hän lainasi seuraavia Dhammapadan sanoja:
"Every being is scared of violence.
Every being has fear of death.
Put yourself in another's place.
You must not take a life,
Nor allow anyone to take another's life."
Summitin ohjelma näkyy sivustolla http://buddhistsummitsrilanka.com. Youtubesta löytyy monia videoita, mm. "7th Buddhist Summit/ Sri Lanka Rupavahini Corporation". Jokaisen delegaation pääedustaja esitteli oman maansa buddhalaisuuden tilannetta, koulukuntia, menestyksiä, ongelmia ja suunnitelmia. Suomen esitykseeni liittyivät Vimalamitran ottamat kuvat eri buddhalaiskeskuksista. Puhuttiin myös yliopistosta sekä ajatuksesta saada aikaan globaalinen yleisbuddhalainen TV-kanava. Konferenssin neljäntenä päivänä resitoitiin eri perinteiden mukaisesti: ensin theravadalainen seremonia, sitten japanilaiset, vietnamilaiset, korealaiset, kiinalaiset, tiibetiläiset sekä myös sveitsiläiset ja kroatialaiset lausuntaseremoniat. Edellisessä Summitissa oli myös suomalaisen delegaation resitaatio, mutta tällä kertaa resitoin yhdessä korealaisten munkkien kanssa.
Varsinaista konferenssia seuraavana päivänä 6. marraskuuta lähdimme erityisellä Summit-junalla Anuradhapuraan. Siellä on kuuluisa bodhipuu, joka on kasvanut valtavaksi sen jälkeen kun keisari Ashokan tytär nunna Sanghamitta toi Bodhgayan alkuperäisens tulevista hankkeista, kuten Japanissa rakenteilla olevasta kansainvälisestä, interbuddhalaisesta Uuden Nalandan bodhipuun oksapistokkaan Sri Lankaan noin vuonna 250 eaa. Anuradhapurasta siirryimme busseilla Kandyyn, jonka Pyhän Hampaan temppelissä pidettiin Summitin loppuseremonia. Pyhän Hampaan temppelin reliikkilippaassa säilytetään Buddhan hammasta, jonka prinsessa Hemamali toi Intiasta 300-luvulla jaa turvaan, koska sikäläinen hinduhallitsija oli tuhoamassa buddhalaistemppeleitä.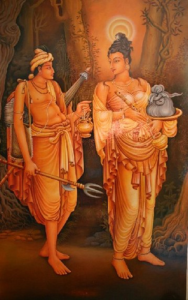 Maalauksessa prinsessa Hemamali on tuomassa Sri Lankaan Buddhan hammasreliikkiä hiuksiinsa piilotettuna.
Summit-tapahtumassa oli mukana kaikkiaan noin tuhat ihmistä. Sen järjestelyihin osallistui noin 150 japanilaista vapaaehtoista ja saman verran srilankalaisia vapaaehtoisia. Oli mielenkiintoista nähdä heidän kulttuurierilaisuutensa. Japanilaiset ovat täsmällisiä minuuttiaikatauluineen, mutta srilankalaiset suurpiirteisyydessään toisinaan saavat aikaan hämmennystä järjestelyissä. Japanilaiset Nenbutsu-harjoittajat maksavat kaikki Summitin kulut. Valtaosa japanilaisista osallistujista pukeutui tällä kertaa valkoisiin vaatteisiin, mukautuen siten srilankalaiseen perinteeseen, jossa maallikot käyttävät valkoisia asuja buddhaisissa tilaisuuksissa.
Meille suomalaisille, jotka olemme tottuneet villapaitabuddhalaisiin, voi tuntua oudolta konferenssi, jossa on eleganssia, kravattiherroja ja hienoja hotelleja, mutta luultavasti kaikkea tarvitaan. Tarvitaan niin meditaatiobuddhalaisuutta, palvonnallista buddhalaisuutta, sosiaalisen toiminnan buddhalaisuutta, oppineiden intellektuellien buddhalaisuutta kuin myös konferenssibuddhalaisuuttakin. Seuraava Summit pidetään ensi vuoden marraskuussa Japanissa. Siihen liittyy Uuden Nalandan yliopiston avajaisseremonia.
Goodwill messages -kirjassa on julkaistu viestejä, joita lähettivät mm. eri maiden munkit ja maallikko-opettajat, valtioiden edustajat sekä kulttuurihenkilöt. Burman valtiokansleri Aung San Suu Kyi kirjoitti viestissään: "Despite different traditions and practices, a path that could lead to a peaceful and prosperous world enriched with spiritual values is one that all humankind would wish to tread." Suomessa olimme pyytäneet useita arvohenkilöitä lähettämään viestejä. Turun piispa Kalliala kirjoittikin viestin interuskonnollisen dialogin merkeissä, mutta se saapui niin myöhään, että sitä ei ole julkaistu kirjassa. Tässä alla on oma viestini sekä laatimani maaraportti :
Most Ven. Dr. Kyuse Enshinjoh, Supreme Advisor to Buddhist Summit,
and H.E. Khamba Lama D. Choijamts, President of Buddhist Summit,
In this world of sufferings and ecological disasters Buddhadharma has much to give to the whole of humanity. Buddhists can set good examples by living mindfully, by practising simple and ecological ways of living, the unity of wisdom and compassion. The Eastern civilizations have developed ways of spiritual liberation founded on silence of mind and mindfulness in our actions. The Western civilization has developed ideals of social freedom and human rights based on the equal value of all human beings. Our world needs both spiritual and social liberation. We need to unify the most wonderful fruits of Eastern and Western cultures.
I hope that in time more and more people will discover the value of humanistic and ecological principles. Those values rest on the understanding of interdependence of all beings and all elements of existence. Buddhist masters can contribute to this change, by promoting vegetarianism and by creating a global civilization based on universal empathy. 2500 years ago Buddha said in his Discourse of Loving-kindness (Metta-sutta):
"Just as a mother would protect
her only child at the risk of her own life,
so should we cultivate
boundless heart towards all sentient beings."
May all sentient beings be happy!
Taehye sunim
Taehye sunim
President of Bodhidharma Association
Finland
Finland – Presentation and country report
Current situation of Buddhism in Finland:
Buddhism is quite young in Finland. The first Buddhist books were translated in Finnish about 100 years ago. In 1947 the first Buddhist association, the Friends of Buddhism, was founded. Later it changed its name to Bodhidharma Association.
Nowadays in Finland there are more than 30 Buddhist groups and centers, among them two Thai temples, Bodhidharma Association, vipassana groups, zen groups, Buddhist Dharma Center, several Tibetan Buddhist associations and three Vietnamese temples. The Vietnamese Heart of Lotus Temple, near Turku, guided by venerable Thich Hanh Bao, has been built partially according to principles of Asian architecture. Today they are constructing a pagoda-style memorial tower for the ashes of deceased Buddhists. Last year the Vietnamese temple in Vantaa had inauguration of the new Dharma hall and venerable Vijjaviriyo founded a small Vietnamese Theravada temple in Kerava. Two Tibetan Lamas are living in Finland and several other Lamas visit our country every year giving precious teachings.
There are about 7000-8000 Asian Buddhists living in Finland and thousands of Finnish Buddhists and sympathizers, bringing the estimated total to about 10 000. Twelve monks and three nuns of different traditions are living and working for Dharma in our country. Buddhism is growing little by little. We are creating contacts also with Buddhists in our "sister country" Estonia where Dharma activity is developing rapidly. In Finnish school system the religious education is very flexible: pupils and students receive religious education according to their own religion or, if they don't belong to any religious group, they study secular ethics. In some schools there is Buddhist teaching for children whose parents are Buddhists.
In 2009 we founded the Finnish Buddhist Union (Suomen Buddhalainen Unioni), uniting now eleven associations. It works to make Buddhism visible in Finland and to develop equality between Buddhists. It tries to ensure that Buddhists' religious needs are met by public institutions, especially in schools and in health care institutions. The Finnish Buddhist Union is a member of European Buddhist Union.
Teachings and programs:
For many Asian immigrant Buddhists it is essential to maintain their traditions. In Vietnam and Thai temples there are teachings also for children so that they learn both Dharma and their national cultures. Buddharama Temple of Thai tradition organizes every year a novice summer camp for teenage boys so that they have one week's experience in monastic life. Most Finnish Buddhists are especially interested in meditation. Two centers in countryside are specialized in organizing meditation retreats. Many centers organize also Dharma study courses of various topics and levels, and some centers have activities for children, too. Some groups, like Bodhidharma Association and Triratna Community unify Theravada and Mahayana elements in their practice.
In the program of our Bodhidharma Association we have meditations for beginners, longer meditation sessions for advanced practitioners, retreats, a translation group, occasional Dharma study courses, tea ceremonies and a yoga class. We emphasize loving-kindness to all living beings and the vegetarian diet which is very important to improve the ecological situation of our planet. Bodhidharma Association also invites teachers of other Buddhist groups to give Dharma talks. We think that inter-Buddhist activity and collaboration of various centers is beneficial, especially in developing Buddhism in Western countries. Finnish Bodhidharma association works in connection with Musang Am temple in Italy where I am the abbot.
International Buddhist Day:
The annual celebration of the International Buddhist Day on 8th April has become an important meeting of representatives of various Buddhist groups. We call it Buddhist tea party. Every year at the meeting we hold discussions on a topic of special significance. Last year the topic was "death and palliative care in Buddhism". This year it was "translation of Buddhist terms into Finnish", because many times the translators and different schools use different terminology which can create confusion. The project to create a Finnish Inter-Buddhist Dictionary was placed on the agenda in order to unify the terminology and help to teach Dharma to Finnish people and Asian immigrants living in our country.